It's great to understand what's happening, but it's more important to correct problems. As a city and a people, we need to understand greed, expensive elections, and systemic corruption. We need to reclaim our government; dream about a better world; and vote for truth, justice, and healing. Until the people get involved and vote, we should expect more of the same old. Please sign up for periodic updates on my site and tell your friends what's going on. I'm not rich, so please donate at DavidZforMayor.org and help our campaign. Thanks! And VOTE like your rights and country depend on it!
HERE'S SOME GREAT WAYS TO HELP SPREAD THE WORD:
Tell your friends about me and my message
Post my campaign flyer somewhere
Email me and I'll send you some flyers
Read my upcoming blog
Send my blog articles to your friends
Donate a little money
Wear a "David Z for Mayor" tee shirt around town
I had some totally awesome tee shirts made up. If you make a contribution to the cause, I'll be happy to mail you a shirt (sizes small to 4XL). The number of shirts is limited by my budget and your generosity.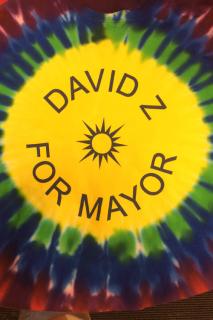 An unfortunate reality of modern politics is that money really helps drive a campaign. I grossed about $62,000 last year and I've already poured $9,000 of my own money into this campaign. If you could help with a donation of any amount, that would be wonderful!
Campaign finance laws require us to report name, address, email, and phone for all donations. Donations are limited to $1000 or less.
Thank you so much for your help! Together we can change the world and reclaim our government! We can spread honesty, compassion, and government for the people!
DONATE FOR A TEE
Please complete our CONTACT FORM or email DAVIDZ@DAVIDZFORMAYOR.ORG to request a t-shirt after donating. Please make sure to include your mailing address and shirt size requested. SIZES: Small - 4XL