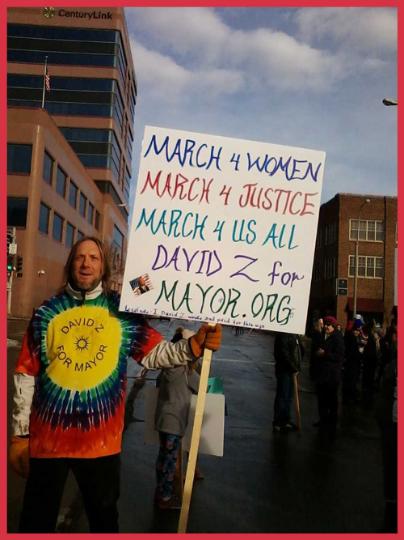 I've lived in the Midwest since 1987 when I started a technical job at EROS. After an educational variety of career shifts, I now work in political analysis and civil rights. I live humbly so that I can afford to work for my passion – a better world for all of us. My political aspirations are not funded by rich people who want to get richer. Instead, I have dedicated a wealth of my time and effort to researching, speaking, and publishing the truth. I'm working my way into office – loving every minute of the journey!
My career shifts came with times of plenty and times of struggle. I loved a nice little country acreage then watched my wealth dissolve with the housing market collapse. Big banks got bailed out while I underwent foreclosure and bankruptcy. Interactions with police have also seen easy and hard times. An officer once helped fix the brake lights on my '67 pickup. Another time, overzealous police surrounded me and terrified me without even suspecting a crime. City leaders need to help police do their job while being respectful to other people and their rights.
I love people, pets, and the natural world. Perhaps my finest accomplishment is co-raising two wonderful adult daughters who are still happy to hang with their dad. I enjoy working out, biking, meditation, martial art, and being in nature. There is beauty all around us if we can just open our eyes to the wonder of life. I celebrate the vitality of life with colorful shirts and expressive energetic dance. You're welcome to join me on the dance floor even if you can only wiggle – I'll help you move to the groove.
Spirituality is important to my life, although I'm usually quiet about it. Spirituality connects with my passion for truth, justice, compassion, and our place in the universe. I see the world of humanity as more troubled than it should be. It is as though we have lost our way and need to find it again. My passion for people and a better world drives my confident sincere efforts to be a great mayor. Coupled with confidence is the humility to seek good ideas from everyone I talk with. I hope you will let me know what's on your mind and how we can improve our town.
Spread the word – vote like your life and country depend on it!
Service Award
"David Zokaites co-received the 1998 JC Penney Golden Rule Award for "exceptional volunteer service to the community." He taught martial art to school children and encouraged physical fitness, group spirit, and a sense of self worth."